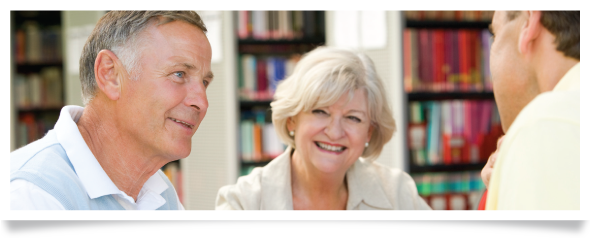 We all know that the moment you give your heart to Jesus is not when you reach your destination, but it is just beginning a lifelong journey of growth and discovery. We all have room to continue to grow in our faith and understanding of God.
In Sunday School you have the opportunity to join with others in that journey of growth and discovery. We offer multiple classes for adults during both the 9:00 am and 10:45 am services. We want to encourage you to take part in a Sunday School class and let your roots grow deep in Jesus as you build your life on Him.
And now, just as you accepted Christ Jesus as your Lord, you must continue to follow him. Let your roots grow down into him, and let your lives be built on him. Then your faith will grow strong in the truth you were taught, and you will overflow with thankfulness. -Colossians 2:6-7 (NLT)
For more information contact Pastor Brian
Email Brian

9:00 A.M. Service
Our Place
Meets In: East Loft
Teacher: Mark Middleton
For those post-high school and young adults, this class gathers together to discuss God, faith, life and how they all fit together. Each week brings great conversation, a lot of laughter, and prayer.
Core 3: Living Out Our Faith Together
Meets In: The West End
Teacher: Michael Atkinson and Brian White
Elective: Prayer and Worship
Meets In: Heritage Room
Teacher: Roy Hood and Nick Sloat

10:45 A.M. Service Legacy Classes
Anchor Class
Meets In: CAGY Sanctuary
Teacher: Ron Combs
This class is made up primarily of those in their 40's-60's. If you're looking for fellowship, community, and great discussion this is the class for you!
The Class
Meets In: The West End
Teacher: Paul Cushman
This group of 60's+ men and women are eager to dive into the study of God's Word. You'll enjoy the close knit feel of this class.
Issues and Discoveries
Meets In: West Loft
Teacher: Kent Teague
If you enjoy discussing current events from a Christian worldview then this class, open to all ages, is for you.
Ladies Class
Meets In: The Studio
Teacher: Yvonne Feller
Designed for women of all ages who enjoy a class where teaching, encouragement and admonition are key. Come have a cup of coffee and relax in a supportive atmosphere while you share, pray, and learn from each other.