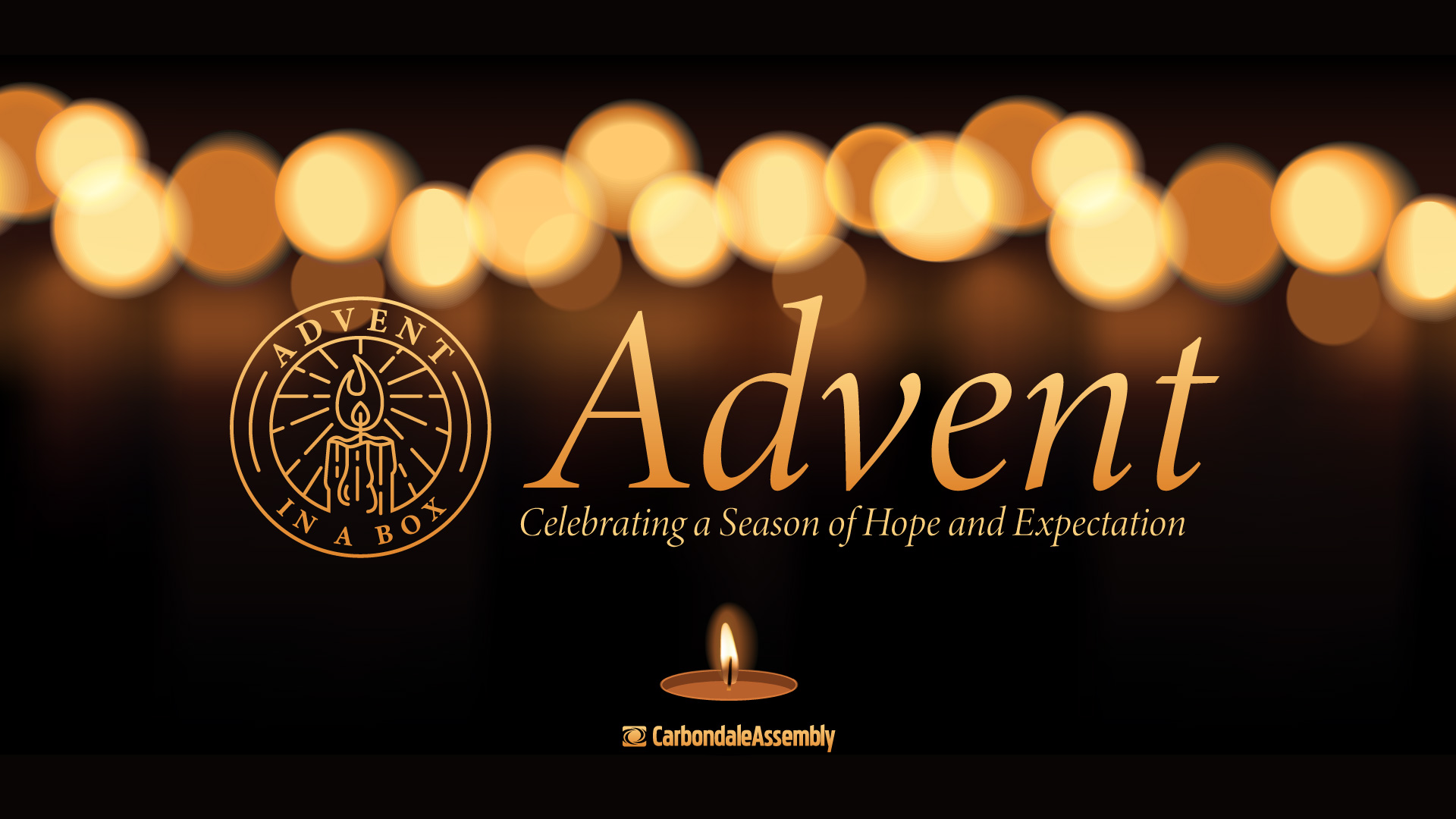 At Carbondale we love the season of Advent… the candles and readings, the excitement and anticipation, the attention and importance it places on the birth of Jesus in an otherwise busy season. It has become our custom to take extra time in each of the four Sundays of Advent to light the candle, have a special reading, take part in a responsive reading, and pray together. We always look forward to sharing in the hope and the waiting of this special season together with our church family.
However, as has been the case in much of 2020, we must look for new ways to make old traditions possible. Though we will continue to observe Advent in our Sunday morning services we recognize that we now have new time constraints. Additionally, many of you will be watching online and the camera shot may not always include the lighted candle in the Advent wreath. This has led us to create Advent in a Box.
We have two goals in mind for the use of this box. First, if you are watching our Sunday services from home during Advent that you will set these candles in view of your device and take part in the sights and sounds of this season. Secondly, we hope that everyone will take time later in the day, perhaps over a meal or in place of the Sunday evening activities, to join as a family or on your own to light the candle, read the Advent reflection, and pray. You'll find those readings and more information regarding the contents of this box at cagtulsa.com/advent
This year has certainly been different from others, yet still Advent reminds us that God is faithful to the promises He has made to His people. The Christ child has come, a Savior has been born, and because this is true it is equally true that He will yet come again. We wait, then, in hopeful anticipation for Christ's return.
Awaiting His Return,
Pastor Sarah
What is Advent?
The name of this season is taken from a Latin word meaning "coming or arrival." Advent is celebrated on the four Sundays prior to Christmas Day. The celebration and observing of Advent allows us to reflect on Jesus coming to earth as a baby, as Immanuel, God with us. He came and lived among His people. It also lets us consider again that Jesus has come and taken up residence in the life of every person who has believed in their heart that He is Lord. Finally, the season of Advent draws our attention to the hope that we have that Jesus will come again to receive all those who have longed for His appearing and He will dwell with us forever.
Getting Started:
Candles are an important piece of the celebration of Advent. We watch as they burn lower each Sunday giving us a visual reminder that Christmas is coming, growing ever nearer, and allowing hope to stir in our hearts that the time when Jesus will return is also getting closer. You'll find five candles in the box you were given. Each week you light a new candle in addition to the one lit the previous week. There are 3 purple candles, 1 pink candle symbolizing Jesus as the Rose of Sharon, and 1 white candle, which we call the Christ Candle.
The first Sunday of Advent you will light one purple candle.
The second Sunday of Advent you will light that purple candle again and a second purple candle.
The third Sunday of Advent you will light both of those purple candles again and the pink candle.
The fourth Sunday of Advent you will light all 3 purple candles and the pink candle.
On Christmas Eve you will light all 5 candles.
At church these candles are set inside the Advent wreath. The wreath is a circle, which reminds us that God is eternal and has no beginning or end. In the beginning there was God, and His reign will be forever and ever. You can arrange your candles in a circle with the white candle in the middle, or you can let the round shape of the glass holder remind you of the eternal nature of our God.
We encourage you to set aside time each week to focus your attention on Jesus and the difference it makes that He came to earth, came into your world, and is coming again. Let's celebrate Advent together in a different, but intentional way this year.
---